Sound Projects




Eloine :
Bryan Day
Improvised and composed works on homemade and folk instruments.


Bad Jazz :
Bryan Day, Tania Chen, Ben Salomon
Electro-acoustic improvisatory trio.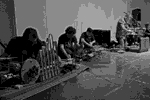 Collision Stories :
Bryan Day, Michael Gendreau, Jorge Bachmann, Mason Jones
Clamoring drone and metallic noise experiments.


Seeded Plain :
Bryan Day, Jay Kreimer
Confrontational gamelan theatre.


Shelf Life :
Bryan Day, Joseph Jaros, Alex Boardman, Jay Schleidt
Walking free improvisation unit.


Naturaliste :
Lonnie Methe, Charles LaReau, Bryan Day, Chris Fischer
Static charge and discharge.


Platform :
Bryan Day, Luke Polipnick, Joseph Jaros, Dereck Higgins, Alex Boardman, Brian Poloncic, Jaime O'Bradovich, Jay Schleidt, Scott Scholz
Nebraska large ensemble.


Automobile :
Bryan Day, Jonathan Fretheim
Endlessly recursive sound works.


Nagaoag :
Bryan Day, Luke Polipnick
Primal business casual.


Sistrum :
Bryan Day
Noisy electronic experiments.
Prototype Earthborne :
Bryan Day, Brian Noring
Mes Des Doines Moines.
Wiretie Undergrowth :
Sound installation / performance using homemade instruments and microcontrollers.
Accepting Resonance :
Installation for dancer using radio transceivers, modified televisions, and square wave oscillators.

Other Projects




Spintype :
Phonetic language system using square characters that can be reinterpreted when rotated 90 degrees. Spintype generating java application.

Fearful Fabrics :
Light sensitive wall scrim that responds to changes in the environment.

Grey on Gray :
Plaster and gesso works illuminated by suspended light boxes.

Locomotion Fonts :
Series of 3 fonts created using found components.